School is back in session and the Promise Scholars team is at Corona Elementary for Back to School Night!
UNITED WAY One of our BIGGEST supporters, United Way! Dr. Felita Jones, Inland Empire United Way CEO presented Promise Scholars Program Supervisor, Jessica Millender and Promise Scholar AmeriCorps Vista, Jacky Morales the Community Impact Partner grant of $25,000!
NEW GRANT Promise Scholars works to strengthen the community by reaching out to all students and families early and often to instill the value of education after high school. Promise Scholars is very excited to announce the expansion of services to support students from high school to college through a new grant. This effort to help students "to and through" college will be made possible through a new $90,000 grant from the Bill & Melinda Gates Foundation. AS part of this grant, Ontario-Montclair School District staff will take part in a year-long community practice with other educators, receive technical assistance, with access to effective models, data tools, and practices to improve educational outcomes after high school.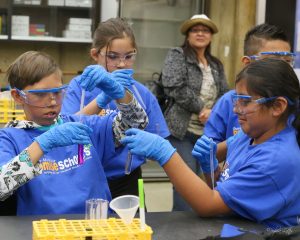 Feb 1
Business Leader Presentation to 6th Graders – College & Career
8:00 – 10:00am
Feb 4-8
TRUE COLORS: PERSONALITY STRENGTHS & CAREER EXPLORATION WITH 9TH GRADERS
Ontario High School
Feb 13
12th Grade Financial Aid Application Workshop – Free Cash 4 College
Ontario High School
2:30 – 4:30pm
Feb 21
12th Grade Financial Aid Application Workshop – Free Cash 4 College
Montclair High School
6:00 – 8:00pm
Mar 1
Business Leader Presentation to 6th Graders – College & Career
8:00 – 10:00am
Mar 11-15
TRUE COLORS: PERSONALITY STRENGTHS & CAREER EXPLORATION WITH 9TH GRADERS
Chaffey High School
Ap 19
Toyota NAPCC Promise Scholars Golf Tournament
7:30-12:00 pm
Bank of America Neighborhood Builder Grant Presentation
Ontario-Montclair Promise Scholars Program
Thank You from Promise Scholars Students