Keeping Our Promise-
On National College Decision Day, Promise Scholars assisted with Ontario High School's National Decision Day. Promise Scholars was at Chaffey High School, Ontario High School and Montclair High School celebrating with seniors that decided on what college they would be attending in the Fall. Over 500 seniors participated in the events. Each student who showed their college acceptance letter received a mini ice-cream sandwich. Students also received college transition checklists for their specific college so they will stay on track over the summer.
Business Partner Spotlight-
The Community Foundation of Riverside and San Bernardino Counties (TCF) has received a $750,000 grant from College Futures Foundation for their Graduate Success initiative which intends to help lower the barriers to college success among low-income, first generation students in the Inland Empire. Promise Scholars is one of six organizations receiving a one-year $50,000 grant through this initiative for scholarships and college access support services.
Promise Scholars is proud to partner with TCF which is playing a leadership role to increase college going rates in the region. Through these College Futures Foundation funds from TCF, Promise Scholars will create a $1,000 -$2,500 Promise Scholars "Social Impact Scholarship" for our students going to a partner college. The awardees will be students that are interested in making a difference in the world through teaching, social work, local government, or nonprofit work. The intention is to also provide volunteer and leadership opportunities for these students as well as a chance to become a College Ambassador or AmeriCorps Member.
TCF provides grants to nonprofit organizations that are doing important work in health and human services, youth and families, arts and culture, education– and for civic and environmental benefit. TCF also acts as a catalyst for positive change in the region by convening key stakeholders to determine community needs and facilitating the development of collaborative solutions to important community issues.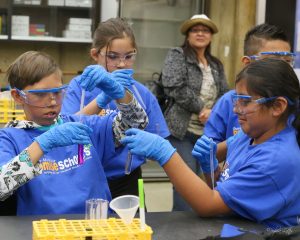 Aug 16
6th Grade Business Leader Presentation
Lehigh & Monte Vista Elementary
Sept 6
8th Grade Field Trip to CSUSB
Oaks Middle School
Oct 4
6th Grade Business Leader Presentation
Central Language Academy, Hawthorne & El Camino  Elementary
Made in Ontario: Promise Scholars (Ontario Economic Development Agency)
Bank of America Neighborhood Builder Grant Presentation
Ontario-Montclair Promise Scholars Program
Thank You from Promise Scholars Students